Serving Flagstaff, Bellemont, Kachina Village, Mountainaire, Winona, AZ, and Surrounding Areas
Bathroom remodeling is similar to kitchen remodeling in that bathroom remodeling requires many different tradesmen – plumbers, electricians, and carpenters. If you are interested in a full bathroom remodel involving the changing of layout and function, you could also be looking at framing or a home additions. Trust remodeling companies that have been working in the area with generations of craftsmen defining the pride of their business. And this is how we, and many past customers, would describe Barden Home Builders. We have deep roots in our hometown of Flagstaff as well as the surrounding areas of Kachina Village, Bellemont, Mountainaire, and Winona, AZ.
All bathroom remodeling and renovation projects are rewarding to both us as your contractor and you as the homeowner. Bathrooms are one area that can quickly look outdated from the rest of the house as styles change in color, tile, and flooring. Bathrooms can also become a problem if they are not functioning for you. Missing double sinks? Bad lighting? Need more space? Desire a walk-in shower? These are all changes that can be done during your bathroom remodeling project.
Bathroom Renovation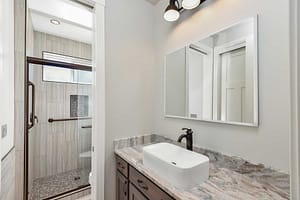 A bathroom renovation includes the replacement of the existing bathroom features. Just painting the walls of a bathroom will not update it as much as a full or partial bathroom renovation. Think of it as updating all the different colors and styles. This includes:
Tile
Sinks
Vanities
Flooring
Fixtures
Lighting
Bathtubs or Showers
Often a bathroom renovation does not include changing the layout or plumbing so it goes faster than a full bathroom remodeling. And, at a lower cost. However, this does not mean skimping on details. A great bathroom renovation includes tile that aligns, flooring installed correctly and many other qualities that show your bathroom renovation was done by a quality home builder.
Bathroom Remodeling from Local Remodeling Contractors
You have many choices when you look for a local bathroom remodeling contractor. You even can go to a big box and get quotes. However, many of your friends, family and neighbors will tell you that finding a remodeling contractor through recommendations is the best way to make sure you are going to get your bathroom remodeling done on time, budget and in the long-lasting quality you deserve. We have been providing bathroom remodeling and bathroom renovations since 2006 throughout the Flagstaff area including Kachina Village, Bellemont, Mountainaire, and Winona AZ. Call us for a free estimate and we could get you started on your new bathroom renovation or bathroom remodeling project.
View the average pricing of a project. This site compares average costs for 22 remodeling projects with the value those projects retain at resale in 150 U.S. markets.