Serving Flagstaff, Bellemont, Kachina Village, Mountainaire, Winona, AZ, and Surrounding Areas
Let's get your new home addition started! We know that you love your house and your neighborhood so moving isn't an option. And, if moving were to be an option, you might not be able to find the house in your budget that has the space you need. After all, the cost per square foot for home additions are sometimes lower than the cost per square foot of a new home in Kachina Village, Bellemont, Winona, Mountainaire, Flagstaff, AZ, and the surrounding areas.
So, what are you looking for? More space? Expanded kitchen? Hobby rooms? More bedrooms?
With more people working from home or moving away from family, we are seeing more and more requests for home offices and guest rooms. You're probably already in your 'forever home'. Make your house function for you!
We do our best to allow clients to stay at home during construction. We know lots of remodel projects can be tricky, but we ensure that no detail gets missed, and everything lines up right! We look forward to working with you on your next home addition project.
Home Additions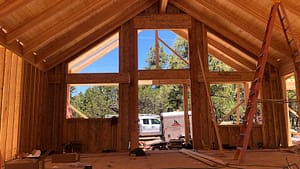 We do a lot of home additions and we'll tell you, it's hard work. Think of everything that goes into a new addition – sewer, electricity, water, gas, etc. It's a lot of work, but we love it! Home additions let us show off our skills as carpenters. We start with great framing and then gather the team together to go from there – plumbing, electrical work, flooring and more. As a finishing touch our skilled finish carpenters will add custom features to blend your new home addition to the rest of your house. Our in house design team will help you plan your project from start to finish.
Here are some of the home additions we've done:
Second Story Addition
Hobby Rooms
Kitchen Addition
Additional Bedrooms
Master Bedroom On Suite
Storage
And More!
Bathroom Remodeling from Local Remodeling Contractors
We are not like other home building companies in that we work with projects of all sizes. We can work on home additions as well as building your new home. Do you have a piece of property you're looking to build on? Are you looking for your custom turn-key home? Are you ready to finally get the kitchen you've always dreamed of? It doesn't matter the challenges new homes and home additions have, at Barden Home Builders, we're quality minded, solution driven, and an experienced home builder. We've been working in the Kachina Village, Bellemont, Winona, Mountainaire, Flagstaff, AZ, and surrounding areas since 2006. Learn more about our bathroom remodeling services.
We know we're different from other home building companies because of the reviews we've received. Homeowners have said our team is kind and courteous to all members of the family, especially when the family chooses to remain in their homes. We know home additions are a big step so give us a call. We'll be more than happy to give you a free consultation and talk about the many options on how to proceed with your project.
View the average pricing of a project. This site compares average costs for 22 remodeling projects with the value those projects retain at resale in 150 U.S. markets.